On Jan. 28, 14 teams presented the results of their project work as part of the event "Entwicklung von betrieblichen Informationssystemen". Due to the current Corona pandemic, the presentations took place exclusively digitally. The aim of the work was to plan and implement an own information system. Numerous groups developed ideas suitable for the current situation. During the final presentations, the participants were also able to vote for their favorite. Here, for example, the website "Wanderbuddy" was chosen, on which like-minded people can look for hiking routes and arrange to go hiking. Another team looked at a platform for "homeschooling," where teachers and students can organize together and upload and edit assignment sheets or assign grades. In addition, a help offering site was developed, through which those seeking and offering help in the Corona pandemic can find each other, for example, to go shopping for their neighbor.
We would like to thank the other 11 groups for their many other ideas and the detailed and great implementations!
On the photo you can see our virtual classroom and get an impression of how teaching currently takes place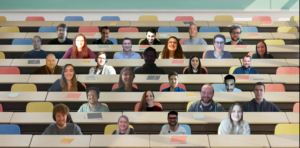 The new list of topics for the seminars is now available in Moodle. You can register for the master seminar SoSe 2021 until 14.02.2021. Please note the schedule and the procedure for registration described therein. Students of the Bachelor's program can also already inform themselves about the offered topics and send in their topic preferences according to the schedule in April.
We are looking forward to great interest and numerous registrations.
The corona crisis is hitting the aviation industry on an unprecedented scale. How should airlines now react strategically to ensure the survival of the company? What impact does this crisis have on strategic decisions by international banks, which finance aircrafts? These and other questions will be addressed in the master seminar "Airline Strategies" in the winter semester 2020/2021 in cooperation with high-ranking industry partners.
The kick-off date for the master seminar will be on 02.11.2020 from 8.30 to 10 am and will take place as a hybrid solution. All interested students who have already registered for the seminar or would like to find out more about the seminar and content are invited to attend.
Please register for the information event until 29.10.2020 directly with Dr. Goedeking via email: pgoedeki@uni-mainz.de

Recent Publications
Hermes, H., Huschens, M., Rothlauf, F., and Schunk, D. (2021). Motivating low-achievers—Relative performance feedback in primary schools.
Journal of Economic Behavior & Organization
,
187
, 45-59.
https://doi.org/10.1016/j.jebo.2021.04.004
Books