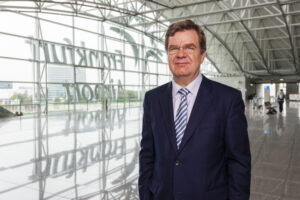 In acknowledgement of his accomplishments in education and science, the Prime Minister of Rhineland-Palatinate, Malu Dreyer, has awarded Dr. Philipp Goedeking the honorary professorship at Johannes Gutenberg-University Mainz (JGU) upon the proposal of the Faculty of Law, Management and Economics. On Friday, 29 October 2021, Dr. Goedeking was solemnly handed over the certificate of appointment at the Presidential Office of the JGU.
Since the summer semester of 2015, Dr. Goedeking has been offering the lecture "Airline Strategies", which is complemented by seminars and project theses at the graduate level.
We are delighted to welcome Dr. Goedeking, a highly renowned and respected expert in the aviation industry, as an honorary professor at the faculty.
Until 10.08.2021 students can register for the master seminar at our chair. The current list of topics as well as the schedule including information on registration can be found in our Moodle group https://lms.uni-mainz.de/moodle/course/view.php?id=20604 .
For general or organizational questions you can contact Ms. Zielonka (j.zielonka[at]uni-mainz.de). For questions on specific topics, please contact the respective supervisor directly. We appreciate your interest.
On Jan. 28, 14 teams presented the results of their project work as part of the event "Entwicklung von betrieblichen Informationssystemen". Due to the current Corona pandemic, the presentations took place exclusively digitally. The aim of the work was to plan and implement an own information system. Numerous groups developed ideas suitable for the current situation. During the final presentations, the participants were also able to vote for their favorite. Here, for example, the website "Wanderbuddy" was chosen, on which like-minded people can look for hiking routes and arrange to go hiking. Another team looked at a platform for "homeschooling," where teachers and students can organize together and upload and edit assignment sheets or assign grades. In addition, a help offering site was developed, through which those seeking and offering help in the Corona pandemic can find each other, for example, to go shopping for their neighbor.
We would like to thank the other 11 groups for their many other ideas and the detailed and great implementations!
On the photo you can see our virtual classroom and get an impression of how teaching currently takes place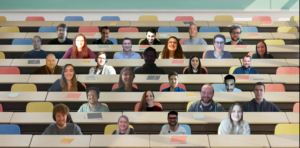 Recent Publications
Wittenberg, D., Rothlauf, F., and Gagné, C. (2023). Denoising autoencoder genetic programming: strategies to control exploration and exploitation in search.
Genetic Programming and Evolvable Machines
,
24
(2).
DOI
Briesch, M., Sobania, D., and Rothlauf, F. (2023).
Large Language Models Suffer From Their Own Output: An Analysis of the Self-Consuming Training Loop
.
Author/Publisher URL
Rothlauf, F. (2023, July 15). Representations for Evolutionary Algorithms.
Proceedings of the Companion Conference on Genetic and Evolutionary Computation
. Published. GECCO '23 Companion: Companion Conference on Genetic and Evolutionary Computation.
DOI
Books