Until 10.08.2021 students can register for the master seminar at our chair. The current list of topics as well as the schedule including information on registration can be found in our Moodle group https://lms.uni-mainz.de/moodle/course/view.php?id=20604 .
For general or organizational questions you can contact Ms. Zielonka (j.zielonka[at]uni-mainz.de). For questions on specific topics, please contact the respective supervisor directly. We appreciate your interest.
On Jan. 28, 14 teams presented the results of their project work as part of the event "Entwicklung von betrieblichen Informationssystemen". Due to the current Corona pandemic, the presentations took place exclusively digitally. The aim of the work was to plan and implement an own information system. Numerous groups developed ideas suitable for the current situation. During the final presentations, the participants were also able to vote for their favorite. Here, for example, the website "Wanderbuddy" was chosen, on which like-minded people can look for hiking routes and arrange to go hiking. Another team looked at a platform for "homeschooling," where teachers and students can organize together and upload and edit assignment sheets or assign grades. In addition, a help offering site was developed, through which those seeking and offering help in the Corona pandemic can find each other, for example, to go shopping for their neighbor.
We would like to thank the other 11 groups for their many other ideas and the detailed and great implementations!
On the photo you can see our virtual classroom and get an impression of how teaching currently takes place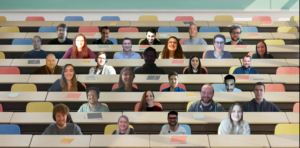 The new list of topics for the seminars is now available in Moodle. You can register for the master seminar SoSe 2021 until 14.02.2021. Please note the schedule and the procedure for registration described therein. Students of the Bachelor's program can also already inform themselves about the offered topics and send in their topic preferences according to the schedule in April.
We are looking forward to great interest and numerous registrations.
Recent Publications
Sobania, D., Schweim, D., and Rothlauf, F. (2021).
Recent Developments in Program Synthesis with Evolutionary Algorithms
.
Author/Publisher URL
Olmscheid, C., Wittenberg, D., Sobania, D., and Rothlauf, F. (2021). Improving Estimation of Distribution Genetic Programming with Novelty Initialization.
Proceedings of the Genetic and Evolutionary Computation Conference Companion
, 261-262.
DOI
Schweim, D., Wittenberg, D., and Rothlauf, F. (2021). On sampling error in evolutionary algorithms.
Proceedings of the Genetic and Evolutionary Computation Conference Companion
, 43-44.
DOI
Books